Posted by:
Agnieszka Milbauer
We all keep asking the same question: Which electric toothbrush is the best? Oral B, Philips, Colgate …… So today I would like to concentrate on one of the newest additions to electric toothbrushes world Philips Sonicare Diamond Clean Smart .
You may ask what so different about it ? Lets see what manufacturer promises under a name of  "Complete system for a healthier mouth"
 Five modes which cover a range of brushing needs:
Clean mode for exceptional daily cleaning,
White+  for removing stains,
Deep Clean+ for invigorating deep clean,
Gum Health for gentle yet effective clean for gums,
Tongue Care for the perfectly cleaned tongue and fresh breath                                                                                                                                                                                                                                                                                                                        Three intensities allow you to choose between a higher setting to boost your clean and a lower one for more sensitive mouth.
Toothbrush promises to :
 Remove up to 10 x more plaque with deep clean  Premium Plaque Defence brush head which contains soft flexible sides and the bristles contour to the shape of each tooth's surface to provide 4 x more surface contact and help with hard-to-reach areas
Get up to  7 x healthier gums in just 2 weeks  with Premium Gum Care brush head. Smaller size head and targeted gumline bristles deliver gentle but effective cleaning along the gumline,
Remove up to 100% more stains in just 3 days with Premium White brush head which design consists of densely packed central stain removal bristles
Getperfect and clean tongue with TongueCare+ brush to gently remove odour-causing bacteria from the pores of the tongue. This head has  240 specially designed MicroBristles which can get between all  tongue's ridges and grooves to remove bacteria and debris which are leading to bad breath
Gives you "Home Dentist " Any problem areas your dentist has pointed you can be highlighted in-app 3D mouth map and remind you to pay extra attention to these areas.
Smart location sensor will tell you  where you've brushed, and where you haven't. Real-time tracking on the Philips Sonicare app will let you know when you've achieved a thorough clean, and coaches you to be a better, more mindful brusher . It will also take you back to any missed spots for 100% coverage                                                                                                                        
Built in a Scrubbing sensor into the handle will become a gentle reminder to reduce scrubbing. This way, you can improve your technique and get a gentler, more effective clean.
 
A Microchip in brush head tells your Philips Sonicare Diamond Clean Smart toothbrush which mode you're using. So if you click on a gum-care brush head, for example, your toothbrush knows to select the optimal mode and intensity to provide gentle yet effective care for your gums. All you need to do is to press the power button.
Smart brush head recognition  will tell you when to replace your brush head.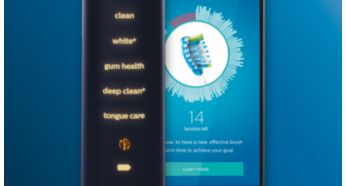 So what do you think ? Is Philips Sonicare Diamond Clean Smart worth a shot?
Its definitely clever toothbrush with lots of technical guidance and aids to make your teeth shine. The only downside to it is ……. PRICE.
With recommended retail price of £380 not everyone can afford it.